Day 1 – Excel's new XLOOKUP function
Fans of VLOOKUP have reason to celebrate. XLOOKUP is easier to use and adds a lot more flexibility and power. With XLOOKUP you can:
Return values to the left of the lookup

Lookup within a row – replaces HLOOKUP
Search from the bottom to the top
43% of data breaches take place at small businesses. Protect your organization's data and email with Microsoft Intune. 
Encrypt work files

Restrict suspicious attachments
Protect your company against data leaks
Intune works on both corporate and personal devices. On personal devices Intune only manages the corporate data – the employee's personal data remains personal.
Intune Device Management allows employees to use their personal phones, tablets, and laptops for both personal and business use. All while keeping company data secure.
Key features include the ability to:
Enforce Multi-factor Authentication

Remotely wipe lost devices
Support multiple devices per user
Manage multiple devices/operating systems from one admin center

iOS/iPadOS
Android
Windows
macOS
Day 4 – Excel Data Connectors
Excel has prebuilt connectors for importing data from a number of data sources. You can also combine and transform the data as part of the import. The data from each of the sources can be refreshed without recreating the connection.
Getting data from a file is as simple as opening local or network files. Use the explorer to find the file and import the data. Supported file types include other Excel workbooks, Text/CSV, XML, JSON, PDF, and others.
Getting data from a database requires a username and password for the database. Once connected, you can browse the tables and pull in the data you need. Supported databases include SQL Server, Access, Oracle, IBM DB2, MySQL, PostgreSQL, Sybase, and others.
Getting data from online services also requires a login. Once logged in you can choose the particular data you want and pull it into Excel. Supported services include Microsoft Exchange, Dynamics 365, and Salesforce.
Many other data sources are also available.
Day 5 – Read Aloud and Speak
The next time you have a Word document to revise, consider using Read Aloud to assist you.  This tool can be used to review the entire document or a selection of text.
You will find it located on the Review tab, and once selected, a set of playback controls appears.  It also offers settings to change the speed and voice of the reading.
You can also listen to selections of documents and emails by using the Speak tool.  Speak is available in Word, Outlook, PowerPoint, and OneNote from the Quick Access Toolbar at the top of your screen.
The Speak tool is located in the All Commands list from the Customize Quick Access Toolbar.
Day 6 – Power BI and Excel
Power BI extends the analysis and data visualization capabilities of Excel to give better insight into your business. You can:
Take the data you already have in Excel and easily transfer it to Power BI to get compelling data analytics and visualization capabilities.
Schedule the Power BI reports to automatically get the latest data from your spreadsheet.
Use data from multiple workbooks and worksheets in the same reports.
User natural language queries to refine your dashboard visualizations.
Easily see your Power BI data in Excel.
And it's not just Excel… Power BI has built-in connectors to dozens of other data sources, letting you visualize and report on all aspects of your business.
Day 7 – Multi-Factor Authentication
Cybersecurity is increasingly important. During this time, we are putting more sensitive information out on the cloud, so protecting this data is vital. Hackers can use programs to "brute force" attack your password. Using strong passwords and changing them regularly help, but aren't enough. Adding Multi-factor Authentication (MFA) greatly reduces the chance that a bad actor can break into your accounts and steal your private information.
MFA adds a device – typically a phone – and a unique personal attribute, like a fingerprint or your personal appearance, to the list of things a hacker must have to gain access to your account.
Using either the Microsoft Authenticator app or text messages on your phone lets you provide both of these easily. Logging into your account pushes a message to the app or a text to your phone and lets you confirm that you are the person accessing your account.
Without all three parts, no one can access your account. You are protected with minimal additional effort.
Day 8 – Outlook Add-ins
Here are some add-ins we like and use:
Grammarly grammar checker
Text Lightning – snippets for entering commonly used text
Tools for finding the best meeting times for your team
Business Central
Salesforce
GIF and emoji finders
A restaurant finder!
Updating Outlook with Add-ins is as simple as clicking the Get Add-ins button on the right side of the Home menu.
Once added the Add-ins are available on the right side of the home menu. They can also be pinned on the new message window.
Day 9 – Teams Apps
Add to Teams functionality with integrated Apps:
Business Central

Yammer
Salesforce
Trello
MailChimp
Constant Contact
Jira
Starbucks
Zoom
Power Apps
Power BI
To add Apps click the Apps icon at the lower left of the Teams menu.
Day 10 – Power Automate
Streamline repetitive tasks and paperless processes with Microsoft Power Automate—so you can focus your attention where it's needed most. Here are some really useful things you can do with Power Automate:
Get a push notification when you get an email from an important customer

Automatically save email attachments to OneDrive
Create Planner tasks for flagged emails
Sync new OneDrive files to Google Drive
Email scanned images and recognized text
Automate expense recording and approval
Get an email when an inventory item drops below a certain count
Day 11 – M365 Business Premium Tools
Choosing Business Premium nets you some really useful tools:
Day 12 – Teams Holiday Fund
New holiday-themed Together mode
Together mode puts meeting participants in a group setting instead of separate boxes, making back and forth communication more natural. New new winter wonderland Together mode scenes add a dash of holiday spirit.
New holiday-themed custom backgrounds
Festive backgrounds liven up your appearance in meetings.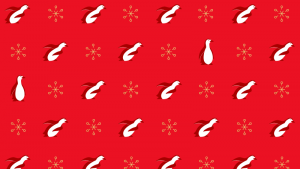 General availability of breakout rooms
Divide your meetings into sub-groups to facilitate smaller discussions, brainstorming sessions, learning groups. You can even mix and a-mingle in the jingling feet…